So, obviously one of the perks of being a teacher is having my summer off. As of Saturday I was blessed with 65 days of freedom.
What am I going to do with myself?!?!!?
Well. Step 1- release my inner housewife.
My husband posted on facebook this weekend

"I think my wife is a superhero when I'm not around. Where does she hide the costume?"

hehehe... what a sweetheart. Here's the story behind it:
Saturday I went yardsaling (that's my typical Saturday AM ritual). I scored a working push lawnmower for $10! So, I hauled it home in my champ-of-a-94 Honda Civic named Trevor. I lifted it out of my trunk. Filled it with gas. Sported by bikini top (might as well get some sun if I'm gonna mow, right?). And took off. My husband got home and saw the neighbor mowing his lawn and walked over and thanked him for mowing ours as well when the neighbor smiled and informed him that in fact, it was ME that did it. Yep- yours truly, wife-of-the-year.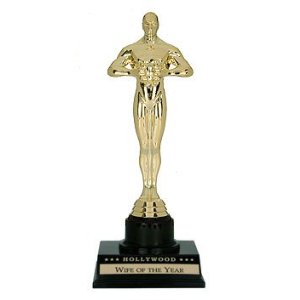 Yesterday, by 10:30am the house was clean (vaccuumed, swept, dusted), the dishes were handwashed, dried, and put away. The wash was dried, folded, and put on its respective dressers. And I did a Jillian Michaels 30 Day Shred workout.
I got smart and did the dishes last night before going to bed... so literally... all I have to do today is go over our budget and find out how much money we have to put toward a house payment. Sneak peak: The house hunt begins tonight at 5:30pm! First house tour! We're totally stoked!
Time to get some more housewife stuff accomplished! Maybe I'll find something that needs reorganized!!!!!!!!